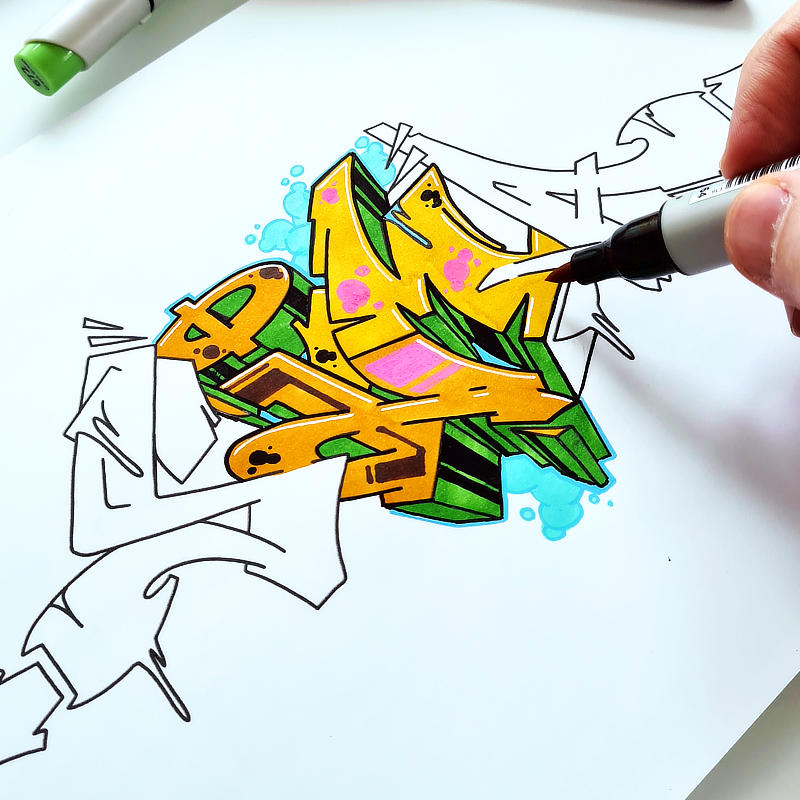 Graffiti Coloring Pages – PDF
Product details
In the third edition of our Graffiti Coloring Pages in PDF-format, we provide the outlines of 21 graffiti words, 26 graffiti letter coloring templates A-Z and 1 graffiti alphabet template in bubble style.
You choose the colors, and the design of 3D-blocks and backgrounds.
We provide it in PDF-file-format, so you can print it over and over again to try a lots of different color combinations and improve your sense for colors.
Graffiti Coloring Pages – Preview
FAQ
What do I need to use the Graffiti Coloring Pages PDF?
you need a basic printer to print the pages
coloring markers

for beginners: a set of Stabilo Pen 68
for intermediates: Stylefile or Copic brush markers for the fill-ins and Posca PC1-MR markers for highlights
Can I issue refunds/are they free of charge?
You're able to issue a full or partial refund on any order, and refunds are always free of charge. Paddle, our Merchant of Records, handles returns. You can find the tutorial on how to issue a refund here »
How does the checkout process in the shop work?

Our brushsets and graphic templates are sold and fulfilled by Paddle – an authorized reseller – with an express checkout.
A pop-up opens and you enter your e-mail-address
Chose the country you live in a dropdown
Chose a payment method and (optionally enter your address and tax-information)
You will get your download after the payment via e-mail.
Paddle.com is the Merchant of Record for all our orders. That means, that Paddle provides all customer service inquiries and handles returns.
Got some remaining questions?
That's completely normal. 😃 You can write me an email to hello@graffiti-empire.com or go to the contact-page.