In this post I will show you step-by-step how I draw the graffiti shown in the picture below.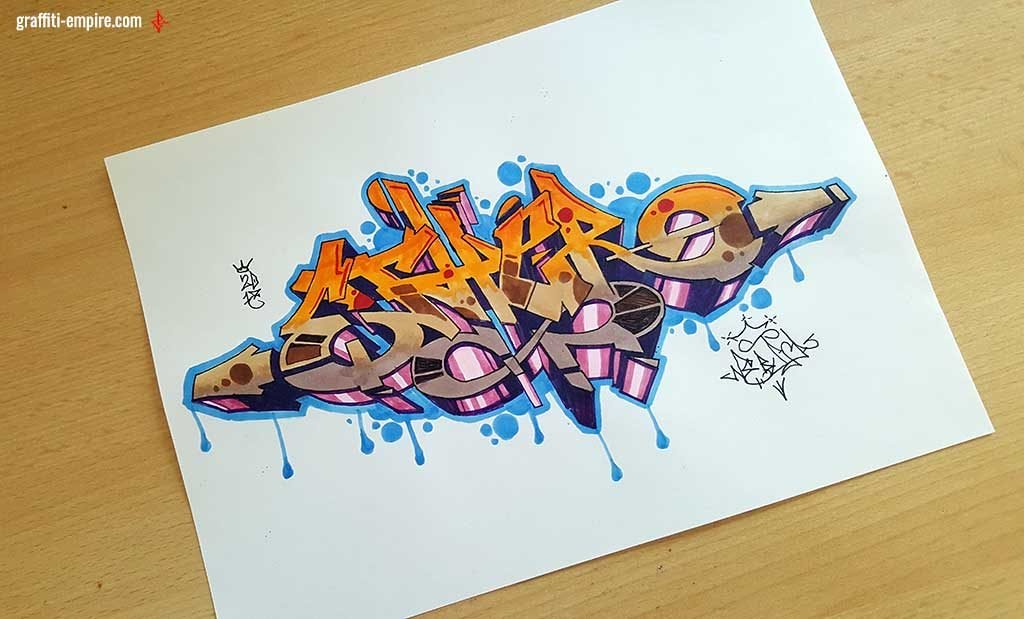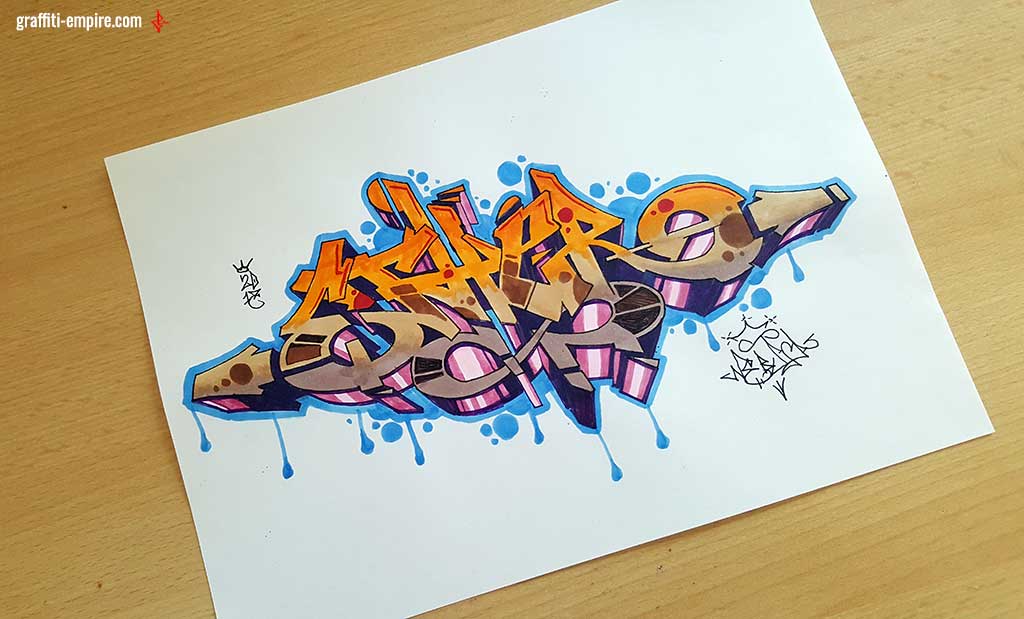 1. How I started to draw graffiti
Starting-out is always difficult. This is why I want to explain how I did it. The first graffiti I drew, was "Limp Bizkit" from the cover from the album "Significant other". Do you know it? I loved the band – still love em – and decided to draw it, because the design of it was very impressive for me. I did a good job of drawing and was quite happy with the result of my first drawing, so I continued…
So, this is my first task for you:
get a pencil* (e.g.: Staedtler) – HB (hardness)
get a piece of paper – a standard multipurpose copy printer paper* is good enough to start out
get a white eraser*
search for a graffiti in the "simple style"-section of my graffiti pictures or download my step-by-step graffiti/graffiti letter drawing Android app (iOS version is in the making)
and draw it!
Maybe you will need a couple of tries in the beginning. This is nothing to worry about. Noone is a professional right away. So practice, practice, practice, practice! I know you will make it!
2. Draw your first tag
After you have done your first graffiti, go to my collection of graffiti letters. Think about a name you want to use as a sprayer. No ideas yet? Just start out with your real name! I provide several designs for each letter. You can search for letters by clicking on the buttons on the top. Create your first graffiti tag this way.
I wrote an article about graffiti tags and handstyles only. You may want to check it out as well.
So, step by step:
get a marker* (e.g. Stylefile) this time; not a pencil; Tags look way better if you use the right marker – I used a Stylefile marker* for the graffiti tag.
get a piece of paper*
Go to my collection of graffiti letters or use my app
search for the letters of your name
Example

I choose the word "Ether"

E graffiti tag letter

T graffiti tag etter

H graffiti tag letter

Simple-style E graffiti letter

R graffiti tag getter

You can additionally add drips, arrows or big serifs to your tag to make it look more complex.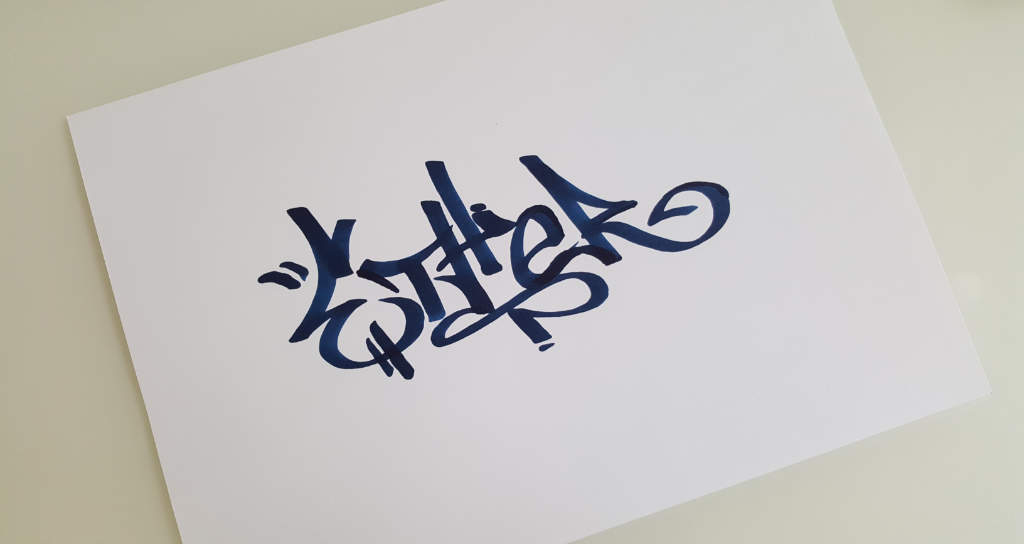 Attention: If you use markers, you should also use a cutting mat*. If you just write on paper, your marker will write through the paper on your desk!
Side note: if you search for a cutting mat* on Amazon, please consider reading the bad reviews. If you find a review about bad smell of the mat there, do not buy this mat. You cannot get rid of it. I also did not pay attention to it, when I bought my first cutting mat and I regretted that decision.
3. How to draw graffiti: your first graffiti sketch in 7 steps
You have redrawn your first graffiti? You have created your first tag? Nice! So, let's move on!
Graffiti pieces are very complex. To start out, I would recommend you to take your tag and transform it into a graffiti piece.
Every graffiti piece consists of the following parts:
The fill-in: colored areas
the outline: colored or black line around the fill-in
3D blocks
a background
a keyline: line that runs around the whole piece
the tag of the sprayer
optionally: highlights
optionally: the year of creation
I use the following materials:
So, let's get started:
Step 1: Trace your graffiti tag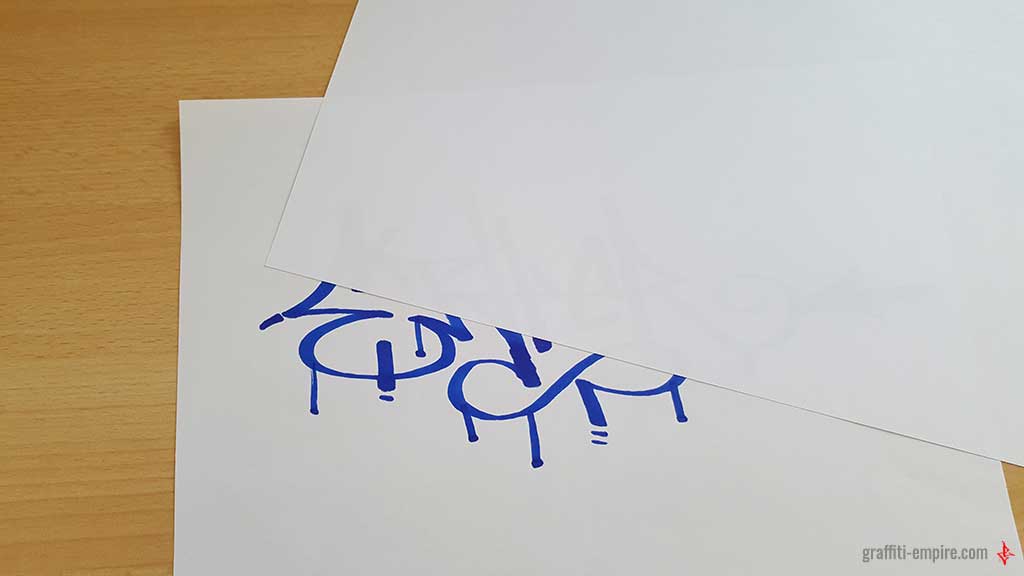 If you used a marker before, you will probably see the graffiti tag through the piece of paper to trace it. So, your first task is it to trace the edges of the lines with a pencil. But leave a little bit of space between the edge of the marker and your new pencil line. So the letter gets bigger. The result should look like the image shown below. Not that bad actually, but we want to improve it.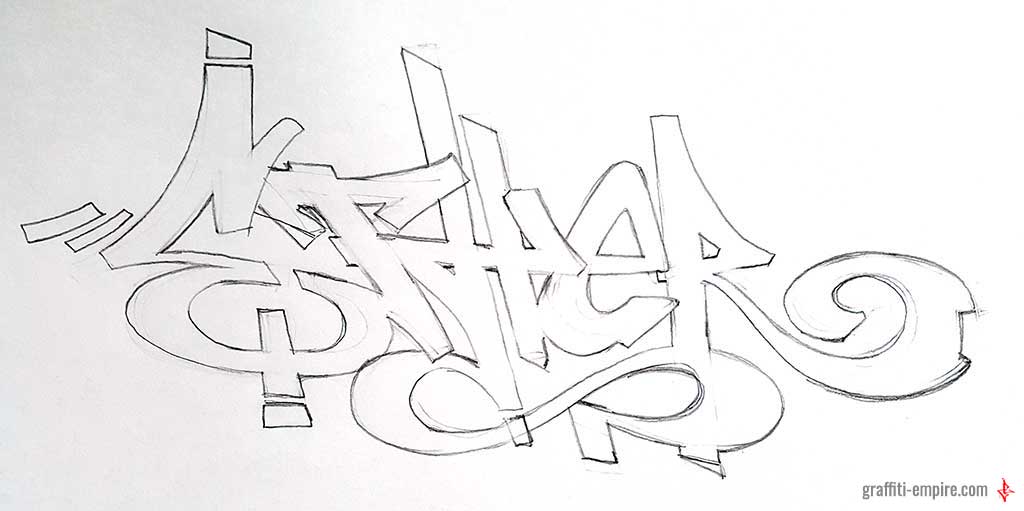 Step 2: improve the graffiti
The composition of the whole graffiti is important as well. The "E" at the beginning is bigger than the "R" in the end. So, I choose to make it smaller and add arrows on both sides to create a compact form.(red) I also added serifs or made them  more complex.(blue circles)
In typography, a serif is a small extra stroke attached to the end of the main vertical and horizontal strokes of a letter. In graffiti, you often use them to make your artwork look more complex.
I also added forms which improve the composition of the graffiti.(green circles)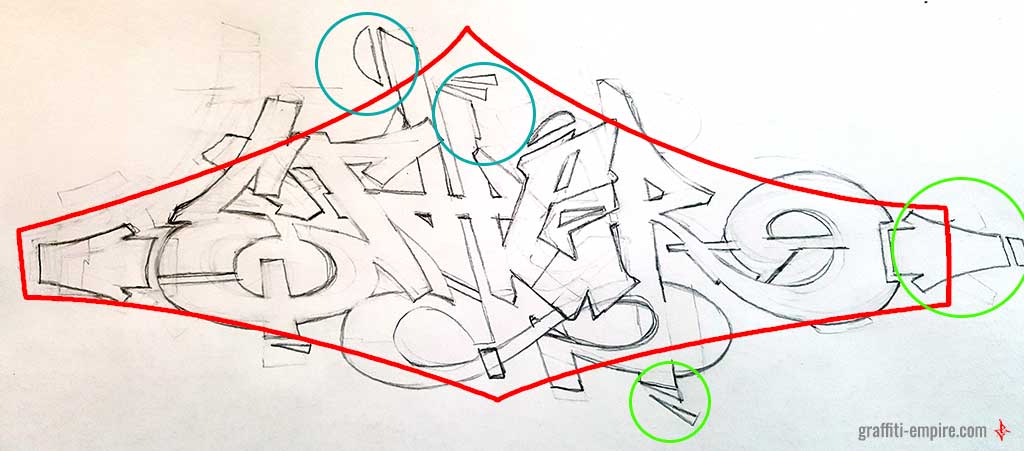 The result looks like the image below. This step is usually made by trial and error, and takes some time. So, don't be upset if the graffiti does not look like you imagined immediately. Even if you practice drawing graffiti a lot, this step will take some time and you will have to use the eraser quite often.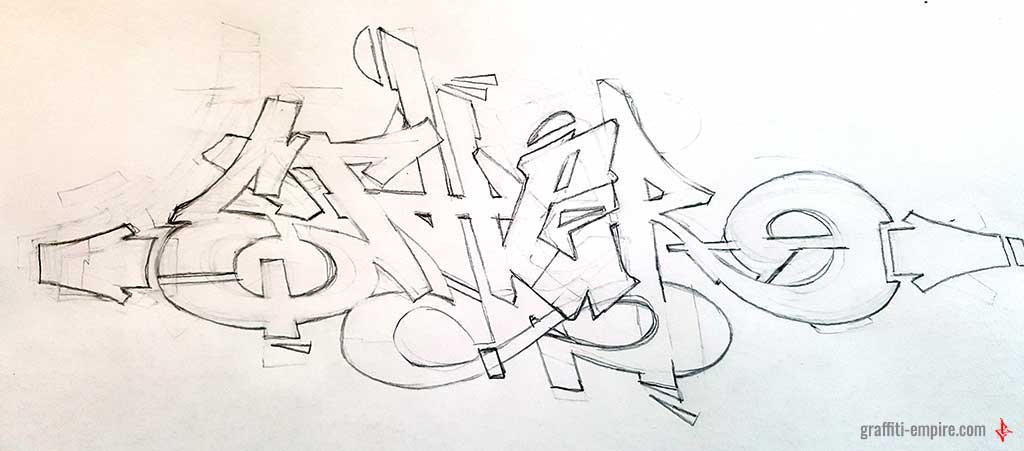 Step 3: Redraw the lines with a Fineliner
The next step is much easier. Take your Posca markers PC 1MR 0.7mm* or Copic Markers Multiliner 0.5* and redraw your pencil lines. Wait some time to let the color dry and erase all the pencil lines afterwards. The result should look like this.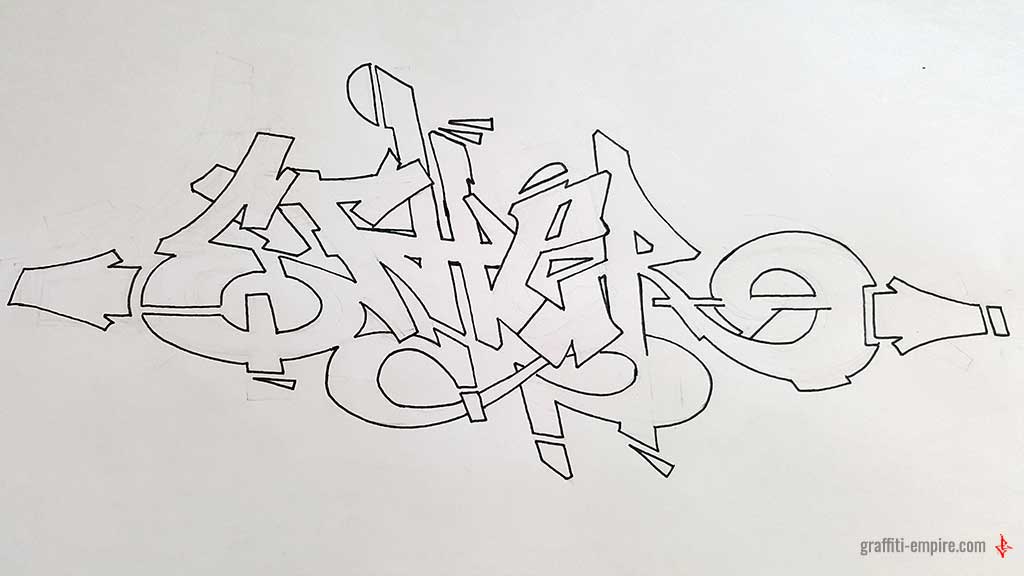 Tip: Copy your drawing at this point. If you are not happy with the colors you choose afterward, you don't have to restart the whole process again.
A printer with copy function like Canon PIXMA MG3620* or a similar product should do the trick.
Step 4: Color your graffiti sketch
To make the coloring more complex, I recommend to always draw gradients. In this case, I colored the whole graffiti in one big gradient. If you want to make your drawing to look even more complex, you will have to add a different gradient to each letter.
Which colors should I use?
In general, I recommend using complementary colors for either:
foreground and background
fill-ins and 3D blocks
If you want to use more colors, you should use colors of the same color shade.
You can also just search for a graffiti on Instagram or Pinterest and copy the colors. If you are a beginner, this approach will probably be the best.
Glossary
Complementary colors: colors, which are positioned opposite to each other on a color wheel
Adobe Color CC is an example of a color wheel – colors are placed on a circle based on a color theory. You can also use the Adobe Color CC color wheel as a tool to choose colors.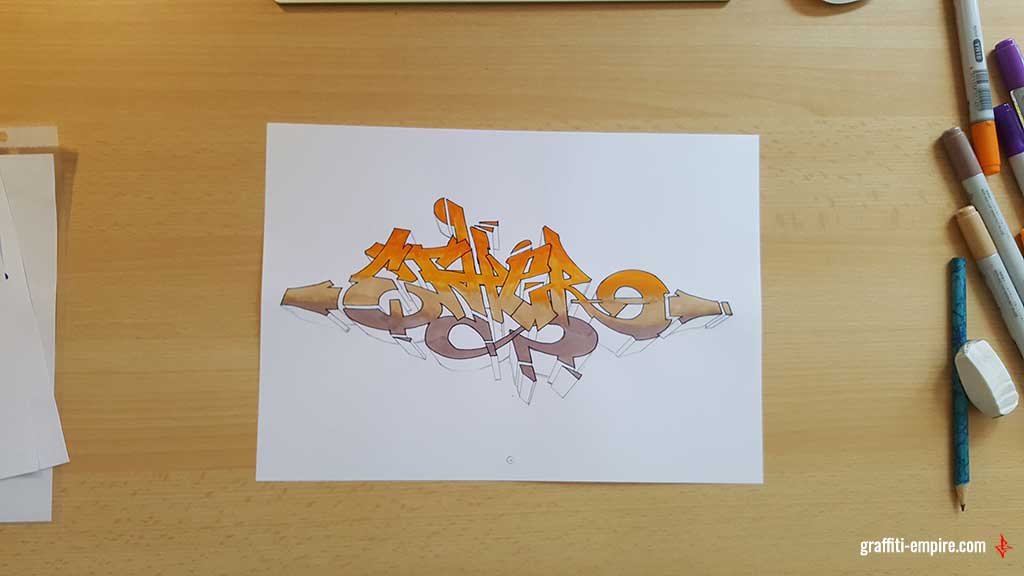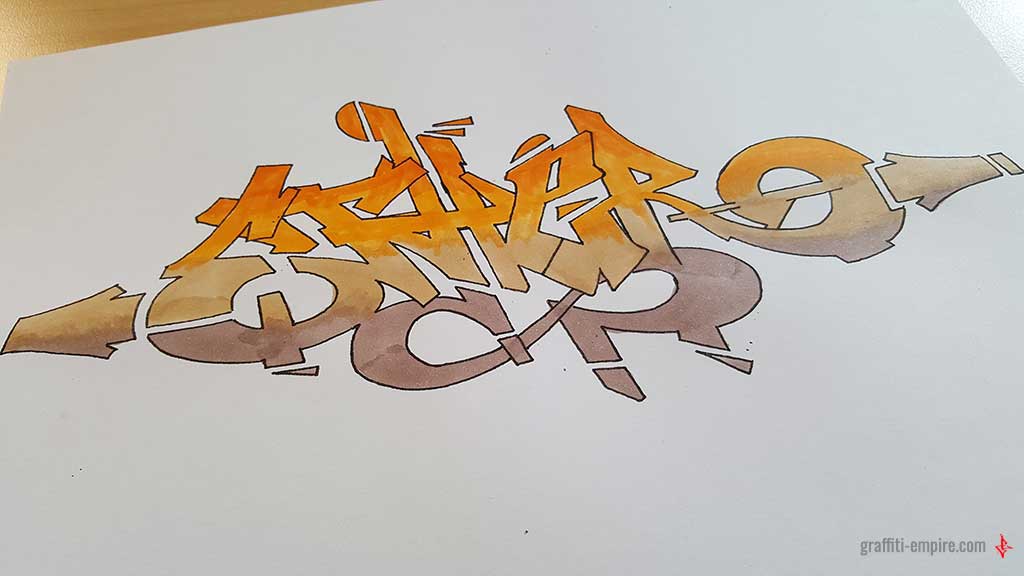 Step 5: Drawing the 3D blocks
Choose a vanishing point below the graffiti, where all the lines of the 3D blocks lead to. Like shown in the picture below. Now, decide how big the 3D blocks should be. I took 1,5cm (1/2 inches) as length in this case.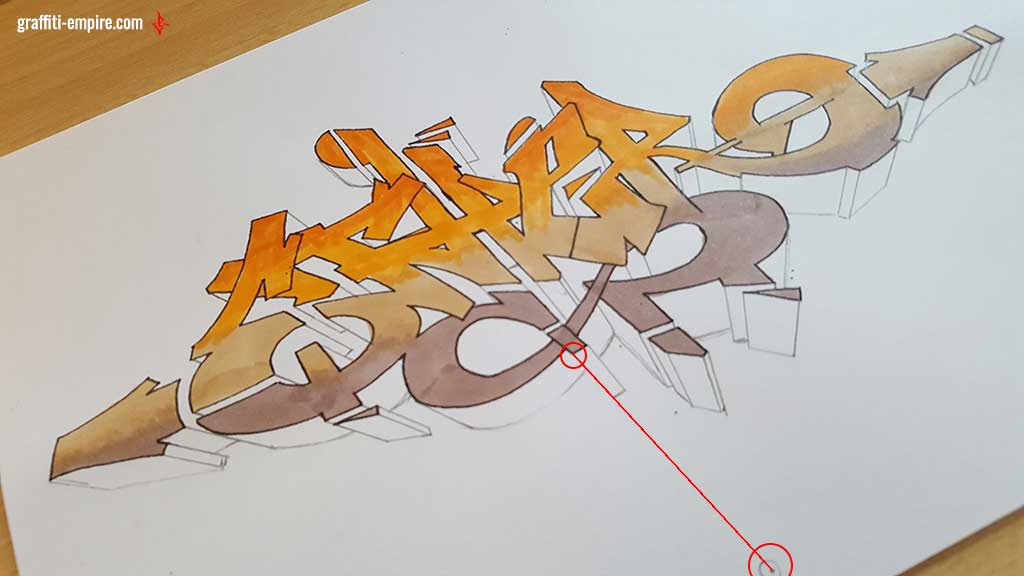 Now, take a ruler* and draw a 1.5cm (1/2 inches) long line from every corner of the graffiti letters to the vanishing point. Connect the lines parallel to the graffiti outline. The results are 3D blocks.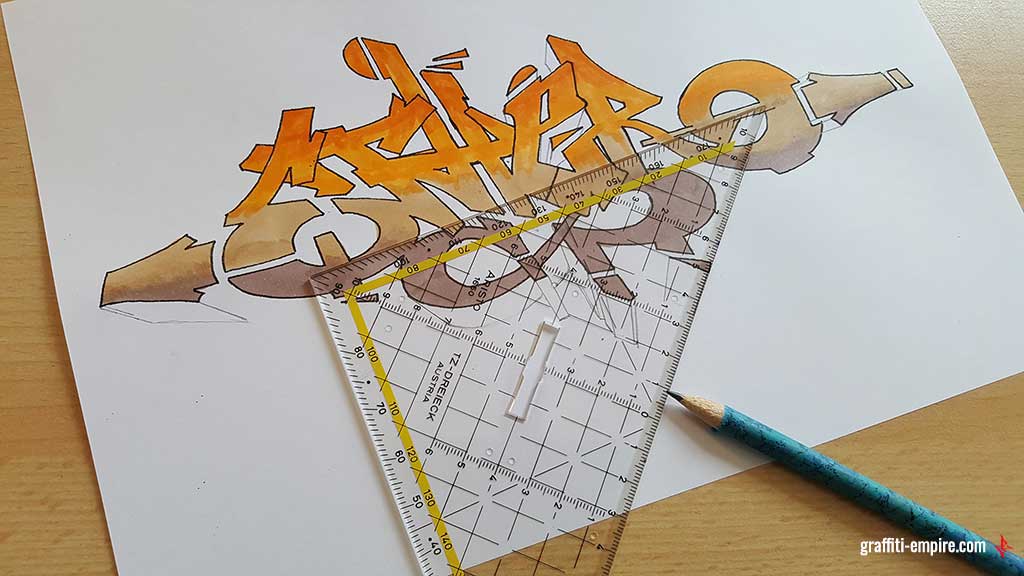 Fill the blocks with black color. If you want to create more complex 3D blocks, you can add light spots in the middle of the 3D block and fade the color to dark.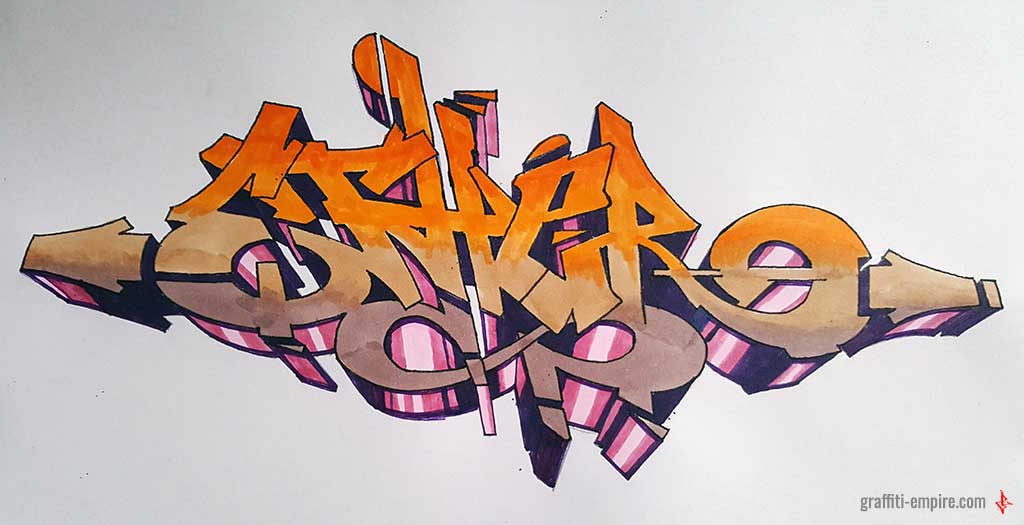 Step 6: Keyline and background
The line around the whole graffiti is named "keyline". In this case, I choose the complementary color to orange – blue. I added bubbles and drips in the same color as background.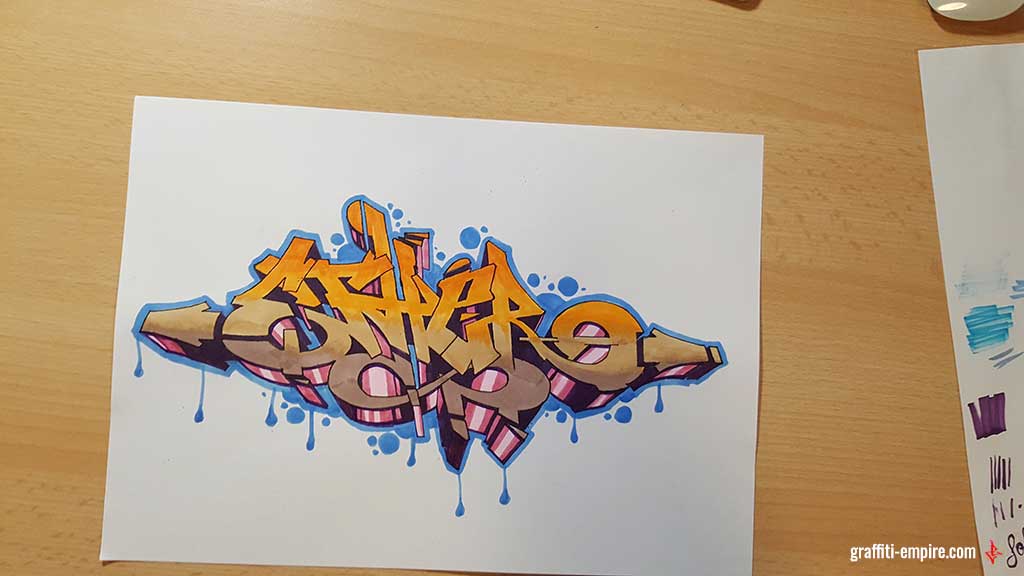 Step 7: Add highlights, your tag and the year of creation
You can make your graffiti look more complex by adding shapes and light spots above the fill-in. Common shapes are bubbles, rectangles, arrows, reflections and outlines of shapes. Usually they are colored in a darker color shade of the color used for the fill-in.
To complete your artwork, add your tag and the year of creation.
Congratulations! You finished your drawing! 🙂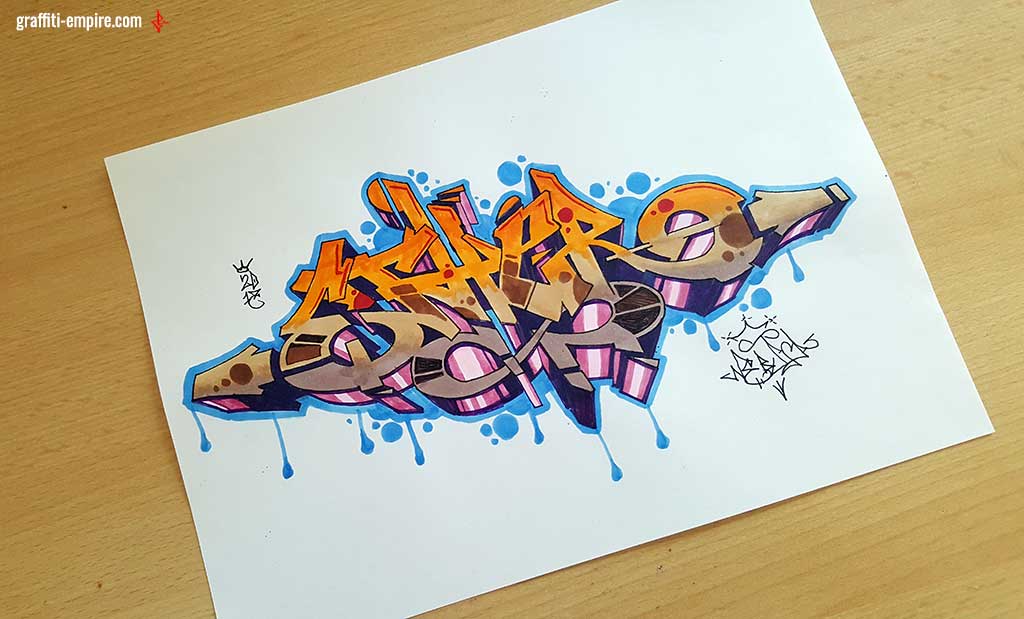 4. Wrapping it up
I hope this tutorial helped you in your creative journey!
Is there something I forgot to mention? Or is there something you did not quite understand?
Feel free to drop a comment below.
* affiliate links