In this post, I will show you the concept of how I draw the graffiti shown in the picture below.
For a quick start, you can also skip to a step-by-step tutorial or our graffiti generator.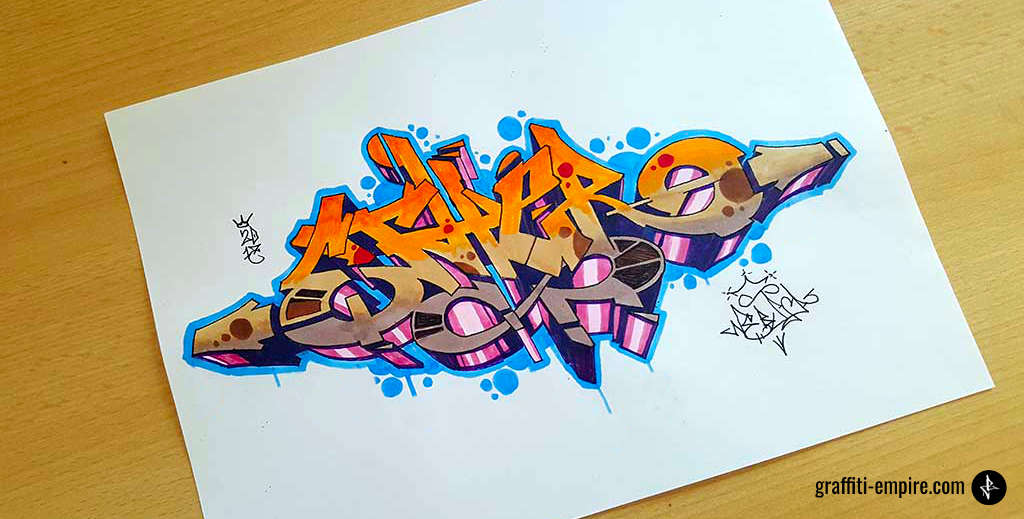 1. Quick start: How to Draw a Graffiti for Beginners Step by Step
If you just want to draw a graffiti step by step for the first time, I recommend following the steps in the slideshow below.
As an alternative, you can also go to the graffiti generator and create a piece of graffiti, change the style and draw it.
There are more step-by-step tutorials to follow in the graffiti words section.
In the beginning, you might need a couple of tries. This is nothing to worry about. No one is a professional right away.
2. Basis: A Graffiti Tag
A graffiti tag is the basis of the design of a graffiti piece.
Think about a name you want to use as a sprayer. No ideas yet? Just start out with your real name!
We provide several designs for each letter in our graffiti letters collection. You can use it as a source of inspiration and draw your first graffiti tag this way.
I wrote a more in-depth article about graffiti tags and handstyles and how to construct them. You may want to check it out as well.
So, step by step: