In this article I will present graffiti drawing markers and drawing tools, which I have tested so far. I will share my experiences, background information and recommendations.
1. Which pencils should be used for drawing graffiti
Pencils are usually used in the first step of sketching a graffiti. Thus they are your first used drawing tools.
What is important to know about pencils?
The main point of using pencils is to choose the correct hardness of the tip. Below you will find the different pencil hardenings and units:
Pencil units
H: hard
B: black
HB: hard black – means medium hard
F: firm
All Degrees of hardness
Degree of hardness
Meaning
Use
8B
extra soft and very deep black
Ideal for artistic drawing, sketching, shading
7B
for drawings of the greatest blackness
6B
Ink-like depth effect
5B
extra soft and very black
4B
very soft and very black
3B
for a painterly sound effect, great depth
2B
very soft and black
B
soft and black
Ideal for writing and drawing
HB
medium soft and medium black
F
firm
H
hard
Ideal for technical drawing
2H
harder
3H
very hard
4H
extra hard
5H
extra extra hard
6H
hardest
I usually use HB or 2B for sketching my graffiti
The second most important thing to know about pencils, is to preferably buy quality brands like "Staedtler" and "Faber Castell". They don't break as often when you sharpen your pencil and the release of graphite is more steady.
2. Which markers should be used for coloring graffiti?
Mainly alcohol-based/water-based markers are suitable for coloring graffiti-sketches.
They are needed to achieve gradients in your fill-ins.
I have tested the one's listed below:
Copic Ciao markers
Stylefile brush markers
New Doer dual brush marker
Stabilo pen 60 – water based
Copic Ciao markers and Stylefile brush markers are premium markers, which I have tested and can recommend.
Gradients and streak-free coloring can be achieved easily with them and the overall look of the graffiti piece is way better.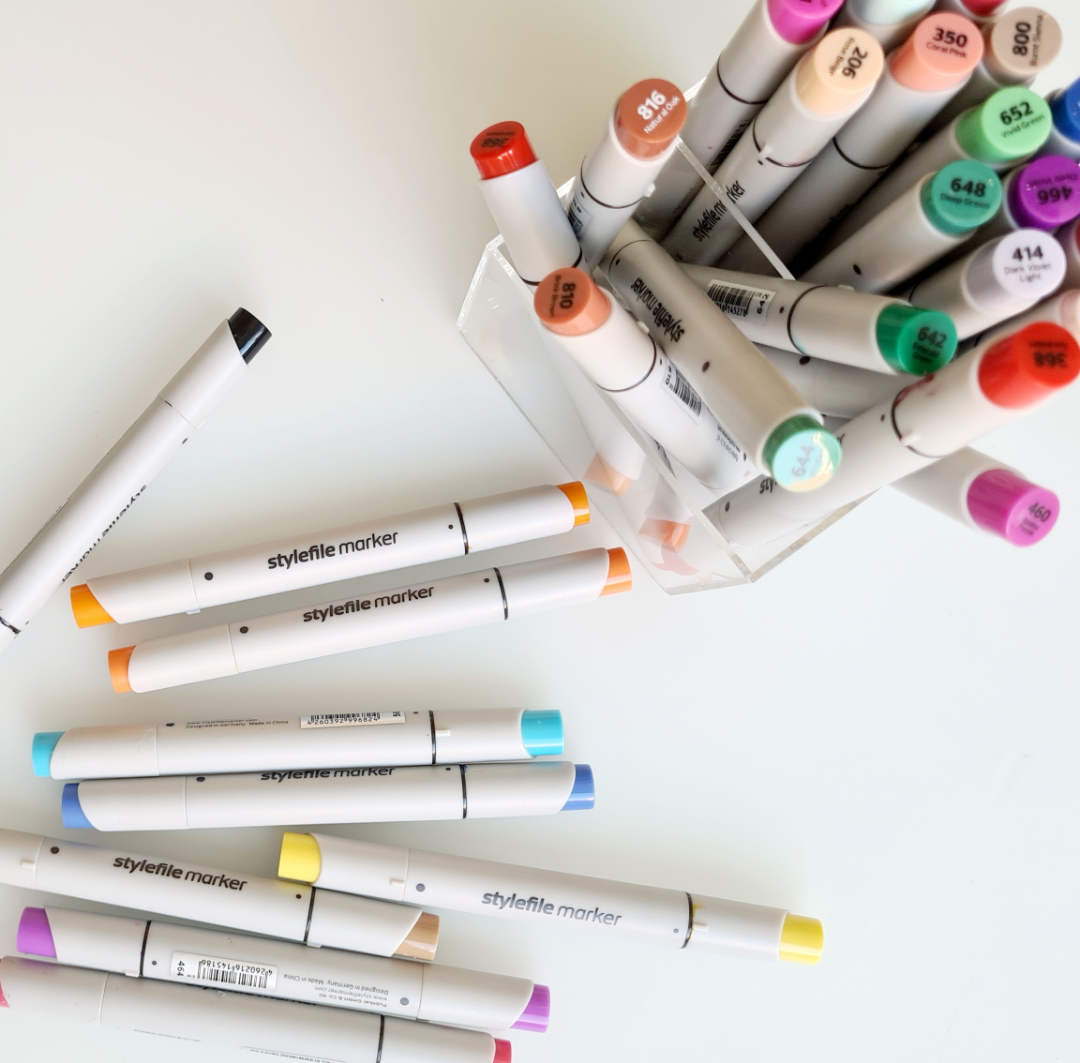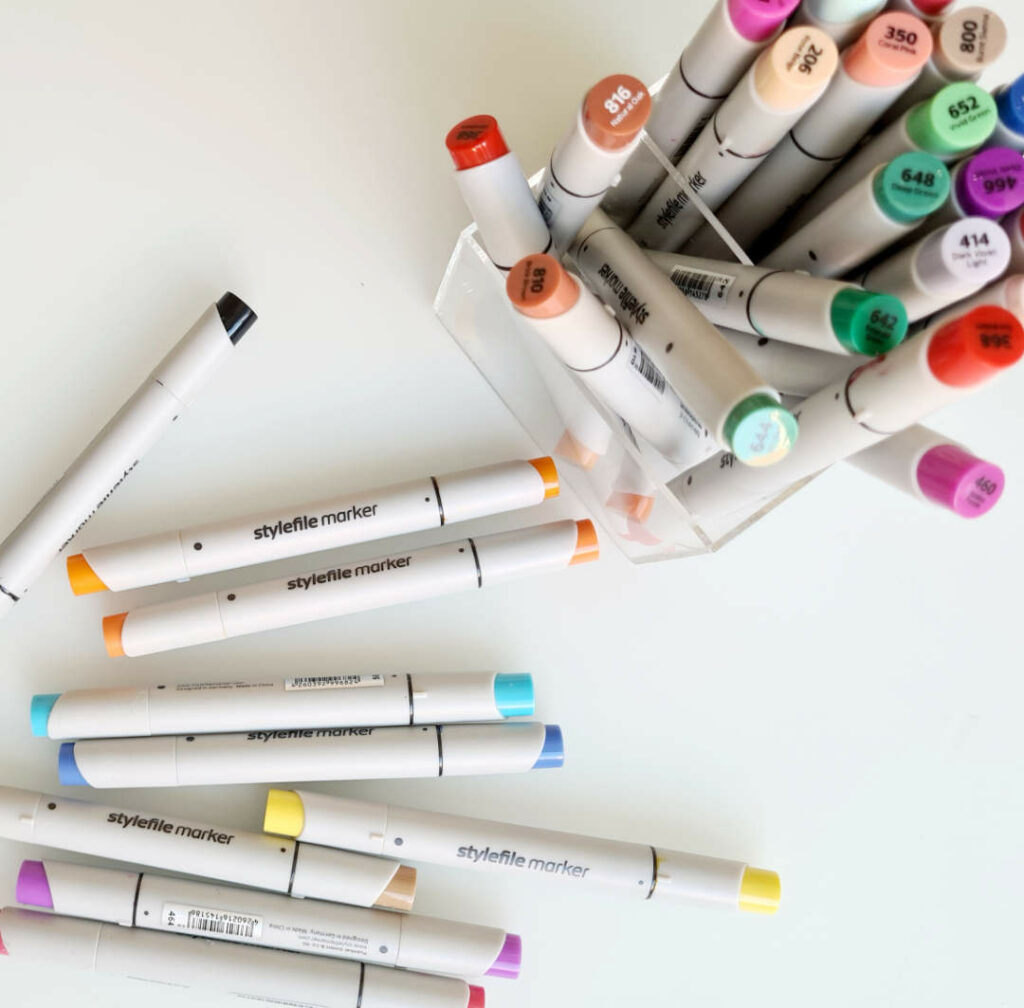 The only downside of those markers are the price. They are quite expensive
If you are a beginner you can also go with Stabilo pen 60 markers.
They are way cheaper and deliver quite good results.
I would not recommend New Doer dual brush markers they are cheap as wall but have poor quality.
2.1 Ask yourself the following questions before buying graffiti markers
How many color-shades are available? How many do I need?
Are the colors numbered? – The numbering makes it easy to replace single markers. Color charts, which are used to choose colors during the drawing-process, can only be created with numbered colors as well.
Which quality does the brand of the markers provide?
Do I want to refill markers? – It is only needed if you really draw very often and you have a space available to refill the pens. This process is really messy. I would recommend skipping this unless you plan to start a professional career.
Attention: If you use markers and normal paper, you should probably use a cutting mat as a base. Markers otherwise will write through the paper on your desk!
Cutting mat
If you consider buying a cutting mat, check for reviews which complain of a bad smell of the cutting mat. Avoid those cutting mats, the smell probably won't go away!
2.2 Coloring examples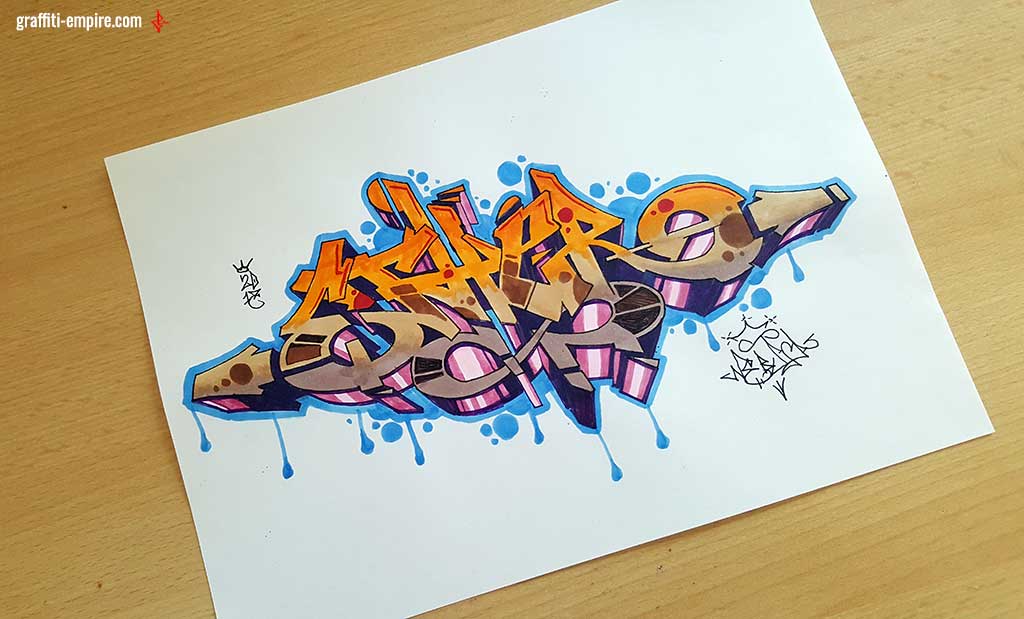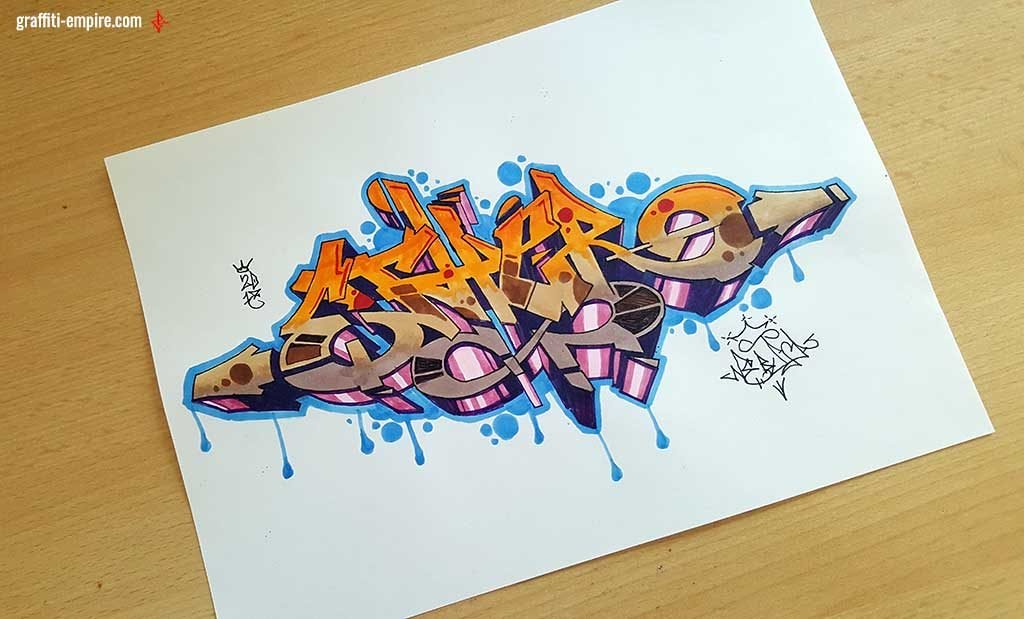 Graffiti sketch colored with Copic Ciao markers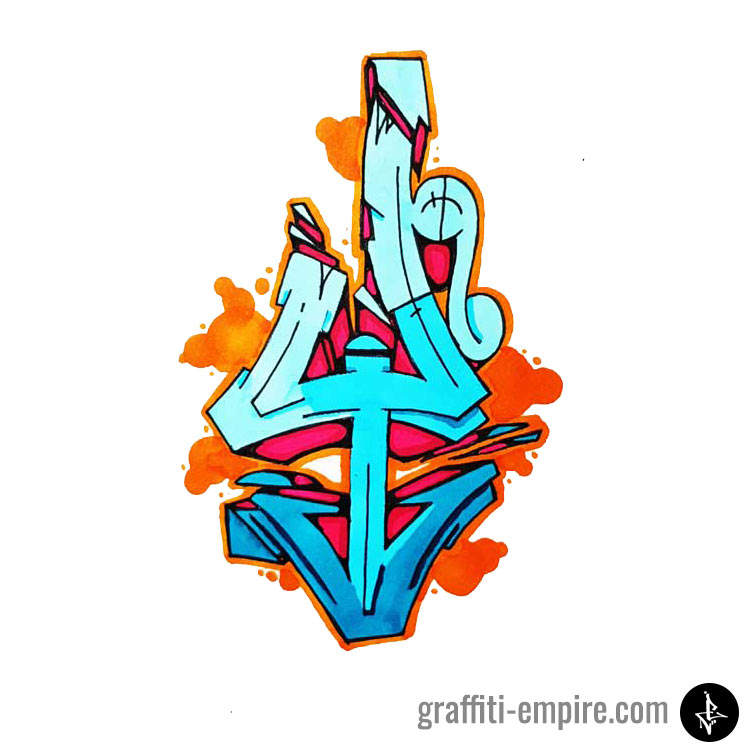 The result is very similar to the one from Copic Ciao markers. As you can see in the pictures above, the gradients look very smooth and the colors are very bright and saturated.
3. Which markers should be used for highlights and outlines?
Alcohol-based markers cannot be used for drawing highlights and outlines on top of other colors. This is because they don't fully cover alcohol-based colors. So, you have to switch to acrylic-based markers here.
I use Posca PC-1MR markers most of the time. They have an extra fine tip of 0.7mm. So, if you want to draw detailed highlights or lines & outlines on top of color, I would recommend the Posca PC-1 MR.
For bigger areas the Molotov 127-HS One4all or Posca PC-1M, Posca PC-3M and Posca PC-5M markers are perfectly fine.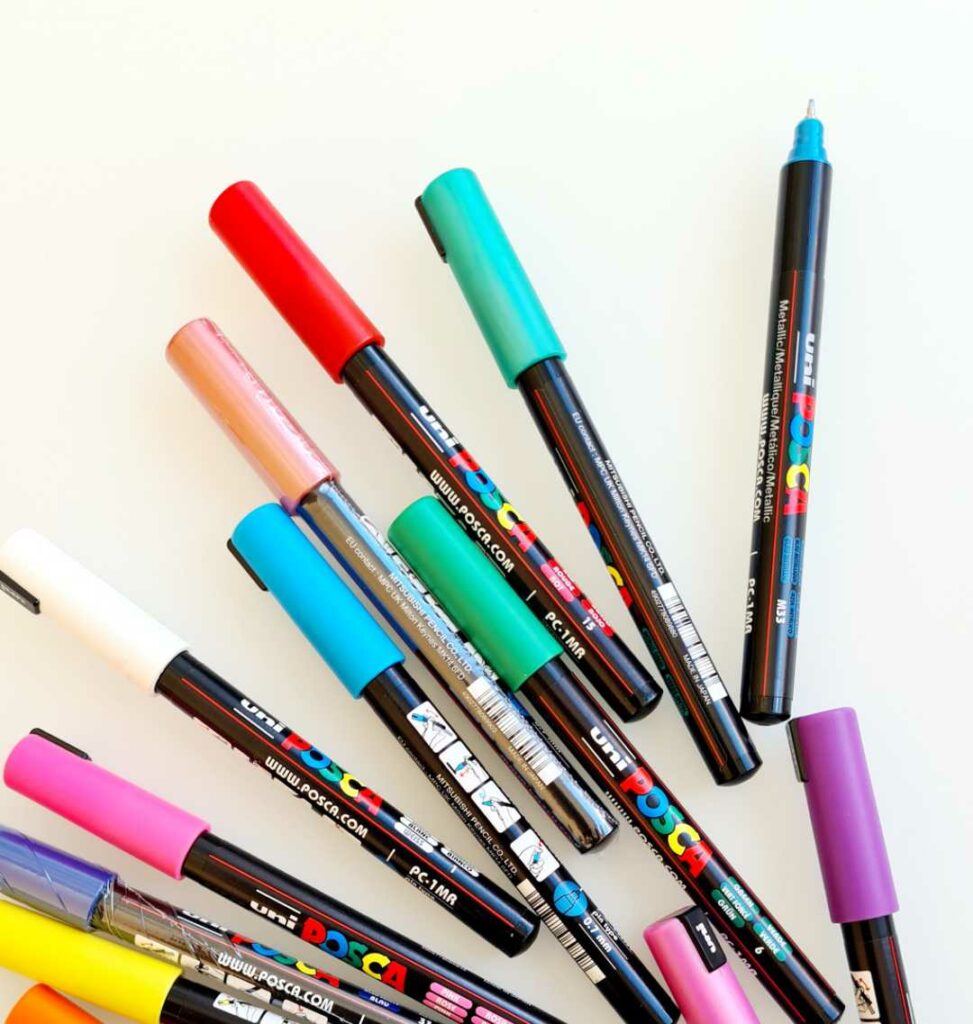 For very thin highlights like cracks you can use Stabilo point 88 Fineliner pens with 0.4mm tip or Copic Multiliner marker with 0.5mm tip.
4. Markers for Handstyles
The most important thing to know about choosing the best marker for handstyles is to NOT buy a marker with a round tip.
Markers with tri-nib tips achieve the best results!


For drips and details around the handstyles you can use thin markers like the Posca PC-1 MR oder Copic Multiliner marker with 0.5mm tip.
So, if you just want to draw handstyles and graffiti tags you can just buy a black Copic Ciao marker and a black Posca PC-1 MR for details
I have tested the following markers for drawing handstyles and tags on paper as well:
Edding 500: The pen tip is very hard, causing color-flow being not that steady and thus the lines are torn. But it is refillable
Grog Cutter 08 XFP: I am also not fully happy with the pumping nib, but it is refillable and results are good.
Toki Layoutmarkers: have a tri-nib, produce clean lines and are cheap – super if you just getting started
Stylefile brush marker with dual tip and tri-nib
Calligraphic Pilot parallel pen
5. Which kind of paper should I use?
To start out, it is okay to use paper for printers. Most of you guys will probably have it at home.
If you are advanced already and want to achieve better results – like for instance very smooth gradients, a thicker paper is way better. When the paper is thinner it absorbs more color and it is harder to layer the colors. Thus it is harder to draw gradients. Instead you could use blackbooks or Bristol paper for example.
6. How do you draw digital graffiti and handstyles?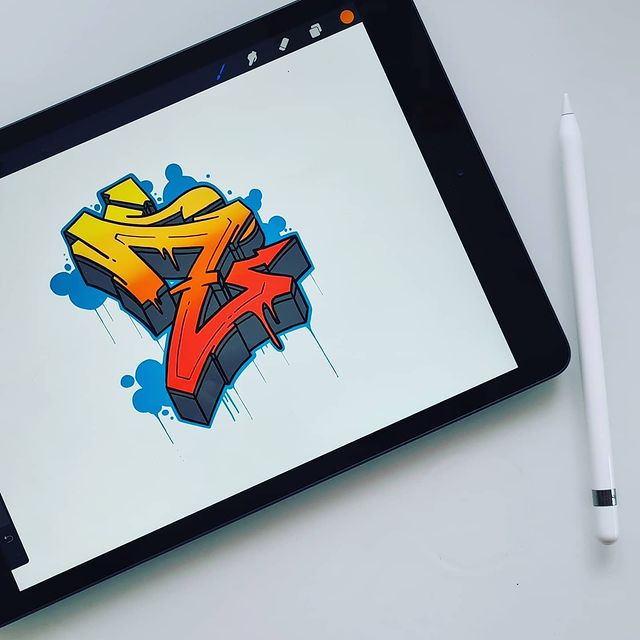 I currently use the following tools to draw and create digital graffiti:
Procreate: the best drawing app for iPad. There are also a lot of additional graffiti brush sets available.
Apple iPad 32GB space gray. It is good enough to start out
Apple Pencil 1
I Used Adobe Photoshop and Adobe Illustrator before for post-production. but currently I am using Affinity Photo, as a Photoshop alternative. It is way cheaper.
7. Summary
I would recommend my current drawing material setup to you.
The following list presents my used graffiti drawing supplies:
Staedtler eraser
Staedtler pencil – 2B grade
Copic Ciao markers or Stylefile brush markers for fill-ins
Posca markers PC 1MR 0.7mm for highlights, outlines and handstyle details
a black Stylefile marker for handstyles
Standard multipurpose copy printer paper or blackbook (e.g. Montana)
I hope this tutorial helped you in your creative journey!
Is there something I forgot to mention? Or do you have further questions?
Feel free to drop a comment below.